AeroMaster 1/72 Phancy Phantoms VF-11,VF-84,VF-101
By Sav. 01/Sep/2009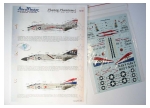 Introduction
Aeromasters 72-191 sheet features 1/72nd scale decals for three versions of the F-4 Phantom ranging from the F-4B to the F-4J
Below are the aircraft represented on this sheet:
F-4B Phantom BuNo. 152965 Air wing 17's CAG bird from VF-11 Red Rippers 1973 
F-4J Phantom BuNo. 155861 Assigned to VF-84 and flown by CCAW6 1970 
F-4J Phantom BuNo. 155544 Bicentennial bird as flown by VF-101 1976
This sheet is very nicely printed with sharp details and very little excess carrier film. There however isn't any stencil data included with this sheet so you might want to raid the spares bin or get third party replacements.