Hasegawa 1/72 F-16C Fighting Falcon
By Sav. 12/May/2009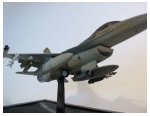 The Aircraft
Up next is the Lockheed Martin F-16 Fighting Falcon. This must be one of the most built subjects in aircraft modeling so I thought it would be nice to try and put a little twist on it by posing it just after take off with the wheels half retracted. This is an older kit that I've pulled off the bench which can be interesting when you can see all the mistakes you 'used' to make.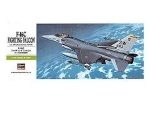 The Kit
Hasegawa's old and faithful F-16 mold still holds up well against it's rivals. The kit features very finely engraved panel lines and a clean fit which we've come to expect from the top Hasegawa releases.
This kit has a few extra features which most other Hasegawa kits don't namely a decent pilot figure and ordinance.
Weapons include:
2 x Large 370 Gal fuel tanks 
1 x 300 Gal fuel centerline fuel tank 
2 x BLU-755 Cluster Bombs 
2 x AIM-9J 
2 x AIM-9L 
Decals are also included for three versions:
USAF 363es TFW 19th TFS "Gamecocks" 
USAFE 86th TFW 512nd TFS 
USAF 58th TFW 312nd TFTS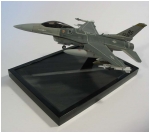 Construction
The kit goes together very well, no filler needed as the fit is extremely precise.
I did modify the kit slightly by dropping the flaps and leading edge slats to the correct position for take off, this was done very slowly by drawing a xacto blade backwards along the panel line slow making the cut deeper and deeper. I've found this to be the easiest way to remove parts like this as it really reduces the chance of breaking the part or making a wobbly cut. I also slightly changed the angle of the elevator.
The next change was to build the landing gear so they appeared to be half retracted. This was really quite easy as I simply trimmed the kits gear so they would show at the correct angle. At the time I built this kit I wasn't worried too much about detail and it was the overalll effect rather than detail that I was after.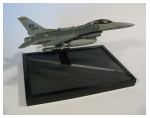 Painting
I figured the painting was going to be quite easy for this because it was the good old 2-tone grey setup which most Falcons have, however when you look a little closer you can see that there are actually four different shades of grey which need to be sprayed and masked. This process certainly took a lot longer than I expected however I was, at the time very pleased with the results.
This was also the first time I tried to manually tint the canopy, I did this by spraying Tamiya's smoke which was heavily thinned. The result was a little over done, you really need to build up the layers as your spray and take a step back every layer to check that you're not going too far.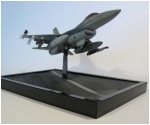 Decals / Details
I'm reasonbly sure that I didn't bother with applying a coat of future before laying down the decals which would be why some of them have silvered slightly. The decals were fine however it was quite tricky to apply the black line decals on the wings as they sat on top of a few panel lines.
Once the decals were down I applied future, applied a wash to the panel lines then applied a coat of matt varnish to dull everything down.
This is a great kit, one which I hope to grab a few more of as I can catch them - I have a few (ok, a lot) of Viper aggressor schemes I want to try.