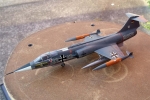 Member Gallery 1
17480 Views | 3476 Votes
Login with your email and password below.


Hasegawa 1/48 RNZAF Skyhawk
By Bob12345. 15/Jun/2010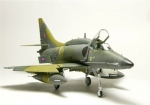 The RNZAF A-4F and four TA-4F Skyhawks were purchased by New Zealand in 1970 and saw service in New Zealand until 2002.

The New Zealand Air Force was to replace them with the F-16 Falcon.

 In 2002 the newly elected government decided to abandon the plans to replace the A-4K with the Pakistani F-16s. The reason for the cancellation was because the government decided that an air combat force was not in line with its policies. Therefore the combat force was disbanded entirely and I believe that most of the active fighter pilots went off shore to fly fighters for other countries (Australia?)

This was my first attempt at painting a European I Paint scheme.  I did this freehand by first lightly marking the panels with a soft pencil and then used an airbrush with a low (5 psi) pressure and acrylic paint thinned with alcohol to a very watery consistency.  The metal components such as the jet nozzle were done in Gunze Stainless Steel and when slightly burnished really looks like stainless.  I found this to be a really great paint for this sort of effect.  

The decals were sourced from Flight Decals and are Gekko Graphics sheet no. GG48-001.  I had to wait a couple of weeks for them to arrive in New Zealand from Canada but that allowed the paint to dry and gave me a fresh perspective of the model when the decals did arrive.

The paint job was then sealed with an application of Gunze flat acrylic.

When I can find an image of a Scooter with RBF Flags attached, I may add some for a little extra detail!    
Hasegawa 1/48 RNZAF Skyhawk Gallery
Hasegawa 1/48 RNZAF Skyhawk Comments
---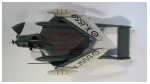 Member Gallery 1
4932 Views | 1526 Votes
And receive updates direct to your facebook account.
Check out our new Online Scale conversion tool. Convert from any scale in any unit of measurement to any other scale in any other unit.