Tamiya 1/48 A-1H Skyraider
By Bob12345. 18/Jun/2010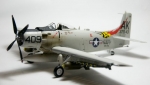 I really enjoyed building this model! There has got to be something said about a quality kit to start with and this one was excellent in all respects.
The entire model was built OOTB with the exception of the seatbelts which I scratch built from folded then painted tin foil and #5 fuse wire. Again, a lot of these things I have not tried before and on reflection I think I would try cutting up an old piece of electrical cable and unwinding some of the copper wire for the buckles. I also painted the walking strips rather than using the supplied decals as I was unsure of how to weather a decal, again, seems to have worked.
I painted the rockets in the appropriate grey then masked for the black and finally masked each for the yellow stripe. It took a little time but produced a good result.
I thought to weather this model a little more lightly as a sort of modern airshow vehicle rather than a worn torn version. I'm not sure how accurate it is but I quite like the effect.
I often find time to reflect while building and find myself being thankful to have gleaned a degree of patience that time seems to serve up as the results are far better than I remember as a speedy child!